I can't believe Thanksgiving is tomorrow and then we have Christmas upon us!! I have already seen friends and bloggers start decorating for the Christmas holidays and it makes me very very happy and excited!!! Here is a round up of some fun items to bring you Christmas cheer:
- Post your Wednesday Wishlist
- Link up starts on Wednesday at 6am EST
- Share your favorites and click around and meet new friends and comment on their lists!
-Also, please help us promote our link up! Use the hash tag #wednesdaywishlists on Instagram, Twitter and Facebook. (Tag us on IG: @pamperspearls and @homeofmalones) (Twitter @mtike and @aladams4). Tag us and we'll re-tweet!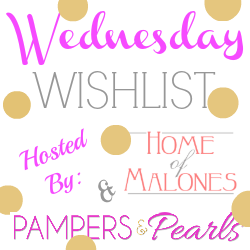 <a href="http://homeofmalones.blogspot.com" target="_blank"><img src="http://i745.photobucket.com/albums/xx100/morganteichert/WednesdayWishlistButton_zpsb02e6410.png" alt="HomeofMalones" width="125" height="125" /></a>