I love beautiful things and once I discovered the world of blogs, I found sooo many more beautiful things. Bloggers do all the hard work for you. They dig and dig and dig through all of their favorite websites and pick out the prettiest, most stylish, and current must-have items on the market.
So for all of you readers out there that just look and don't blog (which was me just a year ago), you can thank me later. We will now compile all these beautiful things with a link-up party every Wednesday with each bloggers wish list items that week. So you can scour all of their wish lists to find some fab goodies.
For the bloggers out there...it's easy. Just make your wish list. It could be one item or a list of things; whatever you are wishing you could buy, wear, say, do, travel to, look like, be like, not look or be like, etc... The possibilities are endless!!!
Here are some examples of my past
wish lists. I use Polyvore to make my collages. Sometimes I have themes, some times not. You certainly don't need to do these collages. You can just post pictures of a few things you are pining for and share a link.
Just add this button to your post and be sure to link-up with me and Morgan at Pampers and Pearls and come meet and see other bloggers favorite things!
I can't wait to see what all of you choose!!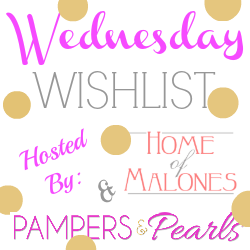 <a href="http://homeofmalones.blogspot.com" target="_blank"><img src="http://i745.photobucket.com/albums/xx100/morganteichert/WednesdayWishlistButton_zpsb02e6410.png" alt="HomeofMalones" width="125" height="125" /></a>