I want to wish my Hubby and baby daddy a very very HAPPY BIRTHDAY today!!! We can't wait to celebrate with you!!
We have a fun evening planned tonight with a few friends at our house and will continue the celebration this weekend as lots of friends are coming to town for
Mardi Gras
.
And.....this little guy became mobile this week and it's time to get moving on the baby proofing! I posted a couple of items below that I know we are desperate for but can you please share with me some of your other tips, tricks, and recommendations for baby proofing your home??? I would appreciate it greatly!
This is for the stairs in our house. I hope it works well and isn't insanely annoying, but I guess we have to do whatever it takes to keep our child from plummeting down the stairwell.
Do any of you use one of these?? This one is called the North States super yard. I need a place that baby is CONTAINED. I sit him down on the floor and get side tracked in less than 30 seconds and next thing I know he has already learned to climb in the fireplace.
Want to join us!?!?!


- Post your Wednesday Wishlist
- Link up starts on Wednesday at 8am EST- Share your favorites and click around and meet new friends and comment on their lists!
-Also, please help us promote our link up! Use the hash tag #wednesdaywishlists on Instagram, Twitter and Facebook. (Tag us on IG: @pamperspearls and @homeofmalones) (Twitter @mtike and @aladams4). Tag us and we'll re-tweet!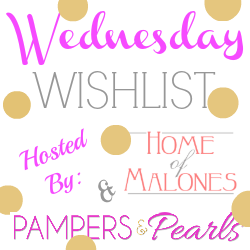 <a href="http://homeofmalones.blogspot.com" target="_blank"><img src="http://i745.photobucket.com/albums/xx100/morganteichert/WednesdayWishlistButton_zpsb02e6410.png" alt="HomeofMalones" width="125" height="125" /></a>