It's my birthday today!! The big 2-9!
And here's what I'm wishing for today:
That's it. It should be a low-key, relaxing day. We are headed to Tampa this weekend for my sister-in-laws baby shower and more celebrating! It will be Brody's first plane ride. I can't wait!!
Want to join us!?!?!
- Post your Wednesday Wishlist
- Grab the button and link back to both of our blogs: Home of Malones AND Pamper & Pearls
- Link up starts on Wednesday at 8am EST- Share your favorites and click around and meet new friends and comment on their lists!
-Also, please help us promote our link up! Use the hash tag #wednesdaywishlists on Instagram, Twitter and Facebook. (Tag us on IG: @pamperspearls and @homeofmalones) (Twitter @mtike and @aladams4). Tag us and we'll re-tweet!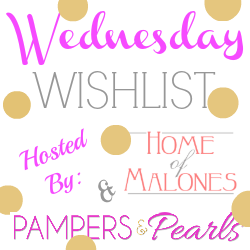 <a href="http://homeofmalones.blogspot.com" target="_blank"><img src="http://i745.photobucket.com/albums/xx100/morganteichert/WednesdayWishlistButton_zpsb02e6410.png" alt="HomeofMalones" width="125" height="125" /></a>