There are tons of sales still out on the world wide web through the holiday season. My wish list today is compiled from Shopbop and Madewell. Be sure to check out Shopbop's sale items as they are offering an extra 20% off all sale prices!! Madewell is offering 30% off your entire purchase! Don't miss out.
***Shopbop Sales Items: Extra 20% OFF with Code EXTRAOFF20
***Madewell Sale: 30% Off your entire purchase with code TOYOU
Want to join us!?!?!
- Post your Wednesday Wishlist
- Grab the button and link back to both of our blogs: Home of Malones AND Pamper & Pearls
- Link up starts on Wednesday at 8am EST- Share your favorites and click around and meet new friends and comment on their lists!
-Also, please help us promote our link up! Use the hash tag #wednesdaywishlists on Instagram, Twitter and Facebook. (Tag us on IG: @pamperspearls and @homeofmalones) (Twitter @mtike and @aladams4). Tag us and we'll re-tweet!
*Quick Note: We will be taking next week OFF from Wednesday Wishlist to celebrate Christmas!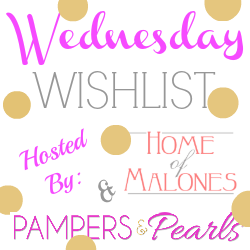 <a href="http://homeofmalones.blogspot.com" target="_blank"><img src="http://i745.photobucket.com/albums/xx100/morganteichert/WednesdayWishlistButton_zpsb02e6410.png" alt="HomeofMalones" width="125" height="125" /></a>