It's another Wednesday Wishlist Linkup Party with Morgan and I today. Today I am talking all about gifts from Santa (aka Matt)! I told my husband this year that I didn't want any fancy jewelry this year, but things a little more practical (hello, Valentino pumps). But really, I just have some clothes and house things that I'd like for Christmas this year. And the best Christmas gift of all would be moving into our new home (were getting real close)! So here are a few things that I rounded up:
Lulu Base Runner 1/2 Zip - I've always loved workout clothes and especially Lululemon, but I now I REALLY love it. I wear it all of the time. As soon as I wake up in the morning, I pretty much always throw on some workout pants and top because it's easy and I'm usually around the house in the morning or taking the dog and baby for a walk. Some days I'm in them all day and other days I change into real clothes; but nonetheless, I wear them daily. So I would love some new Lulu for Christmas this year.
Stuart Weitzman 50/50 Stretch Leather Boot - When we packed up our house last May, we only left out the bare minimum to bring over to my Mom's house to live and put everything else in storage. We thought we would only be here 3 or 4 months at the most. Well, summer has long passed and winter has arrived and all my winter clothes are packed in Pods. So some gorgeous boots to wear for the rest of winter would be fab!
Lulu Sweat Once a Day Bag - Love this adorable workout bag. I actually can't find this color on the website, but they have this style in some other colors.
Valentino Rockstar Pump- An exceptionally beautiful pair of statement shoes that would make the perfect Christmas present. I love that these come in 2 1/2" heels because between having a baby and a bad knee, the 4"+ heels are so hard for me to wear nowadays. I really want the black patent leather with the nude straps, but for some reason these gray one's saved on my computer.
UGG Dakota Suede Slippers - Since I am at the house more now and run in and outside, I would love a cozy pair of slippers.
iRobot Braava - In the new house, we basically have dark hard wood floors throughout the whole main house. They are beautiful, but I know they are going to be a pain in the ass to keep clean. Megan, over at Honey Were Home, blogged about this amazing contraption for mopping up wood floors and I was sold immediately. I would for Santa to bring me one of these beauties.
Clare Vivier Foldover Clutch - I can get enough adorable clothes and this blue is my all time favorite color. I wouldn't mind if this found it's way into my new closet!
Want to join us!?!?!
- Post your Wednesday Wishlist
- Grab the button and link back to both of our blogs: Home of Malones AND Pamper & Pearls
- Link up starts on Wednesday at 8am EST- Share your favorites and click around and meet new friends and comment on their lists!
-Also, please help us promote our link up! Use the hash tag #wednesdaywishlists on Instagram, Twitter and Facebook. (Tag us on IG: @pamperspearls and @homeofmalones) (Twitter @mtike and @aladams4). Tag us and we'll re-tweet!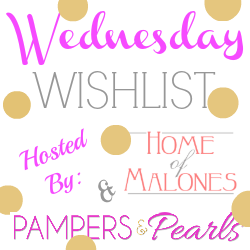 <a href="http://homeofmalones.blogspot.com" target="_blank"><img src="http://i745.photobucket.com/albums/xx100/morganteichert/WednesdayWishlistButton_zpsb02e6410.png" alt="HomeofMalones" width="125" height="125" /></a>